Renata Fox
Age: 21 years old
Country: Russia
More high quality content
Some days you just want to wank alone in your room to your favorite magazines or porn site. This is the case for Oldje, he even put on his door a "do not enter" sign. The sign only made Renata more ...
A messy teen makes for a dirty girl...in bed. Old man wants the place cleaned up, but after getting scolded by him, sassy, sexy Renata Fox shows him that she'd rather clean his dick with her pierced tongue instead. Oldje sucks ...
Oldje-3Some.com movies
unlock
25% OFF for Oldje.com members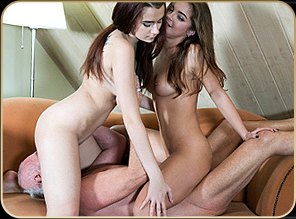 Renata Fox knows just what to do to surprise old Nico when he's bored - the sexy girl brings along shy Scyley Jam, curious to get a taste of Oldje dic ...
Subspaceland movies
unlock