Lady Dee
Alias:

Jody D, Sabina Pokorna, Lady D
Age: 20 years old
Country: Czech Republic
Height: 175 cm - 5 feet and 9 inches
Boobs: Natural boobs
More high quality content
Can you blame an old man for praying for a little rain? You can, if he has way better girls to do right next to him. Atillah will soon find out he can get soaked without any incantations - beautiful, young Lady Dee makes all of their clothes ...
Nick (the Smutty Professor) and Lady Dee in a hot new Oldje video. On a hot summer day, Nick had to run out for a bit and let his girlfriend enjoy the sun until he got back. Little did he know she was horny as hell and could not ...
Beautiful teen pussy Lady Dee, charms two old men with her slender tall body showing up almost naked to mess up their dirty thoughts. The two wrinkled old men discuss and remember the good old fucking days when they had sex with beautiful young girls. This cheeky young girl ...
Beautiful young girl Lady Dee is teasing and taunting her older man lover while he is working. She wants to relax listening to music, but this bothers the old man so he reacts aggressive shouting at the teen to stop the music. The hot babe gets upset and feels ...
Only a young hot nurse like Lady Dee can cure our Oldje from his deathbed. Going for the special sex treatment, she reaches under the sheets and takes the old cock in her hands for a detailed examination. As the wrinkled prick gets harder, she starts licking and ...
Subspaceland movies
unlock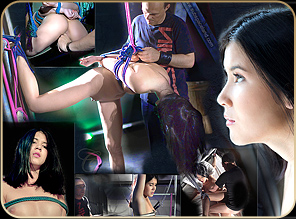 Captured in the dark basement, slave girl patiently waits to serve her Master. Ropes restraining her soft body, her cute ass is warmed with a little spanking and slapping while her pussy is deep fingered. Submission foreplay continues with a vibrator massaging her pussy, to make it ready to ...